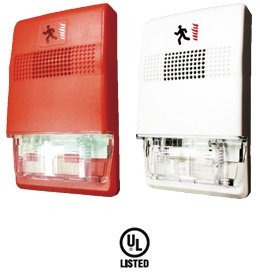 Feature
☆ Field-configurable options for selecting dB output, sounder signal, and strobe signal output.
☆ Field-configurable switch for selecting the desired candela output.
☆ The candela output setting is locked in place and remains visible after final installation.
☆ This strobe features an enhanced synchronization circuit to comply with the latest requirements of UL 1971 Signaling Devices for the Hearing Impaired.
☆ Synchronized operation requires that you connect the DC-M9413 Series Wall Mount Sounder Strobe to a NAC output set for Synch Mode, or to a separate DC-M9410 Signal Synchronization Module.
☆ Designed for indoor use.

Technical Specifications
Operation Voltage
24 VDC or 24 VFWR nominal
Operation Current (under 24VDC)




Strobe (cd)
Operating current


15cd
0.129A


30cd
0.167A


75cd
0.281A


110cd
0.337A
Sound Level(24VDC @ 10ft)
High 85.5dBA, Low 80.1dBA
Sound Level(24VDC, Peak)
High 101.4dBA, Low 97.3dBA
Light Output
Selectable at 15, 30, 75 and 110 cd
Strobe signal rate
1 flash per second (fps)
Ingress Protection Rating
IP33
Operating Temperature
32 to 120°F (0 to 49°C)
Relative Humanity
0 to 93% noncondensing
Compatible electrical boxes
Single-gang box, 2-1/2 in. (64 mm) deep
Models
| | |
| --- | --- |
| Model number | Description |
| DC-M9413R | Sounder-strobe, red |
| DC-M9413W | Sounder-strobe, white |